Sylvan Detox is the top-rated inpatient rehab center in Santa Clarita, providing medical detox services to residents alongside evidence-based treatment therapies. Our well-appointed, beautiful, luxurious facilities and our highly qualified medical professionals will keep you comfortable through all stages of detoxing from alcohol addiction.
Our treatment program and facility are accredited by the California Department of Health Care Services (DHCS) and the Substance Abuse and Mental Health Services Administration (SAMHSA). We are a part of a robust, nationwide network of alcohol and drug detox centers located throughout California and beyond, offering services such as
Medical and residential detox with medically assisted withdrawal treatments
Inpatient rehabilitation in one of our centers
Outpatient rehabilitation where you go home each day after therapy
Aftercare by connecting you with national addiction recovery peer groups and sober living communities
Allow our medical doctors, nurses, and expert therapists to help you on your road to sobriety. If you or someone you know in Santa Clarita is struggling with alcohol addiction call us today.
If you or a loved one is suffering from any form of addiction or abuse, please call Sylvan Detox at (818) 308-3099.
Alcohol Rehab Treatment in Santa Clarita
It may be difficult for you to know if your drinking is problematic, as every individual reacts differently to the effects of alcohol. However, there are shared symptoms that everyone with an addiction to alcohol will experience. These include 
Engaging in risk-taking behavior while under the effects of alcohol like driving, fighting, or unprotected sex
Continuing to drink alcohol despite negative impacts on health and relationships
Interference with work, family, school, or other obligations
Requiring more and more alcohol to achieve intoxication
Physical withdrawal symptoms when alcohol is not present in the body
Hiding your drinking from others
Alcohol addiction progresses slowly over time like other substance abuse disorders, usually as a response to trauma. Families with a history of alcoholism also have a higher risk, if one or both of your parents are heavy drinkers your risk increases. It is not a weakness on your part, or some internal character flaw but your brain's coping mechanism. Addiction can affect anyone, at any time in their life. No one is immune to the effects of trauma on the body and mind, therefore no one is immune to addiction. 
How Do I Get Into Alcohol Rehab Treatment in Santa Clarita?
The first step to accessing our world-class care team and facility in Santa Clarita is to contact us. Our helpline operates 24/7 and is strictly confidential. We are here to help, but more importantly here to listen. Even if you don't feel ready to participate in rehab we are here for you, reach out to us. You may even be apprehensive about the process of rehab, unsure if you can achieve sobriety. By connecting with us you will see that you absolutely can, over 40 million Americans were living with addiction as of 2020, and you are not alone in your struggle.
What Happens During Alcohol Rehab treatment?
If you have previously experienced the physical symptoms of alcohol withdrawal, you may be scared or nervous to begin detoxing from alcohol addiction. Our rehab staff includes medical doctors, specialist doctors such as a psychiatrist, nurses, psychologists, and therapists with a minimum of a graduate degree in their field. You will begin by meeting your case manager, who will take a detailed history of your alcohol consumption, and any family history of substance abuse. This allows us to determine if you will need to complete medical detox before entering therapy.
 Your body must be free of the addictive substance to focus on healing, and alcohol withdrawal can be dangerous if not conducted in a supervised, medical setting. Your Sylvan Detox doctor may prescribe medication such as benzodiazepines to ease your withdrawal symptoms, and it is essential to complete the detox process in a facility that has 24/7 medical care as your central nervous system adapts to no longer having alcohol. If you have been drinking heavily for extended periods your risk for potentially dangerous conditions increases significantly. Once you have completed the medical detox portion of your recovery you will begin therapy, using some or all of the evidence based treatments listed below
Types of Alcohol Rehab Programs
If our expert team determines that you will need a medically assisted withdrawal you will begin your journey to sobriety in our luxurious medical detox facility, under the attentive and caring gaze of our doctors and nurses. You will meet with your primary therapist, holding at least a graduate degree, once a day. Our facilities are designed with your comfort and safety in mind, and to make you feel at home. Our medical detox facility in Woodland Hills can be viewed here, we offer a non-hospital setting with semi-private rooms and the following amenities
Private chefs prepare delicious and healthy meals
Spacious and private outdoor property
Housekeeping
Community lounge areas indoors and outdoors
A small 6-bed facility in the San Fernando valley
Entertainment such as ping pong, pool table, board games, cards, and books
Fitness classes
Yoga and meditation
Phone privileges after a short blackout period
Facetime for patients with smaller children at home
Upon completion of your medical detox, you will begin your residential, or inpatient rehab therapy. Inpatient rehab is the first recommendation our staff will make, as it gives you the best chance to focus on your success without outside distractions. It may also be your best option if you do not have a safe environment at home, or a family member is also struggling with substance abuse. 
We also offer outpatient rehab programs such as our partial hospitalization programs(PHP), or intensive outpatient programs(IOP)  as an option for those who are not able to overnight in our facility for work or childcare reasons. You will attend these programs in one of our equally beautiful and comfortable locations in our network. We offer many different types of therapy including group therapy, patients can expect to complete on average 40 hours a week of group work.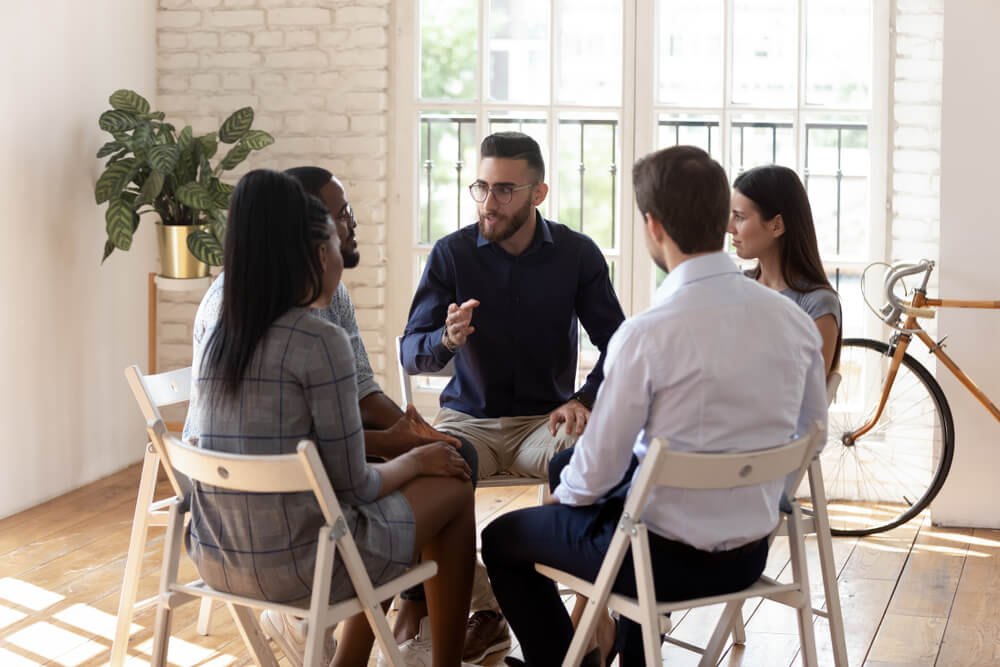 Alcohol Detox: What To Expect
Alcohol withdrawal syndrome is the name given by doctors to the specific symptoms you may experience while undergoing medical detox. These symptoms may begin within a few hours of your last drink, or a few days and include
Tremors
Anxiety
Nausea and vomiting
Increased heart rate
Sweating
Confusion and irritability
Insomnia
High blood pressure
Nightmares
More serious symptoms of withdrawal experienced by people who have been drinking heavily for long periods include delirium tremens (DT) which can cause seizures and death. It is critical for people who experience this severe form of withdrawal to receive prompt medical attention. Experiencing DT is considered a medical emergency, and emphasizes why supervised medical detox is critical for your safety. For your comfort, our medical experts at Sylvan Detox may prescribe medications to alleviate the symptoms of withdrawal.  Our staff cares deeply about your recovery, and Sylvan Detox provides 24-hour medical support at our facility.  It may seem overwhelming to see all of these symptoms and complications listed, but our team are experts and are highly experienced in helping you withdraw from substance abuse with a minimum of discomfort. 
Paying for Alcohol Rehab Treatment in Santa Clarita
Sylvan Detox works with many different health insurance companies to provide Santa Clarita residents with the very best care. We accept most forms of insurance, verify that your insurance company is one here.
Sylvan Detox Alcohol Rehab in Santa Clarita
Sylvan Detox and our wide network of support facilities offer you the very best in medical care, emotional support, and evidence based treatment plans. If you or someone you love is struggling with alcohol addiction in Santa Clarita take the first step on your journey to recovery with us. Whatever you are dealing with in your life you are not alone, even if you feel your obstacles to sobriety are insurmountable there is hope for you. Call us today and allow our experts to care for you.