Los Angeles, California — Sylvan Detox offers addiction treatment amenities and services that clients need – and want. With phone time and chef-prepared meals, the rehab is demonstrating that old drug and alcohol treatment center models are no longer relevant for meeting today's treatment standards. 
Sylvan Detox staff acknowledges that, unfortunately, not all addiction treatment centers got the memo that rehab isn't prison. Punishment-like deprivation is not only ethically wrong, it's medically unsound. At Sylvan Detox, clinicians treat each client with dignity and respect. They individualize treatment for clients, providing support that's tailored clients' needs.
Clients who are comfortable find it easier to focus on their therapies. To that end, Sylvan has developed a wide range of amenities that enhance the recovery process. First, the staff at Sylvan Detox understand how important it is to connect to the outside world. After therapy, phone blackout time is removed and clients can connect with loved ones.
Sylvan Detox also offers a myriad of other amenities that underscore its luxurious setting. Chef-prepared meals are popular with clients. Not only are meals delicious, they're made with healthy ingredients that promote healing. Nutrition is a holistic treatment for addiction recovery. Many clients have suffered from nutritional deficiencies as a result of their drinking or drug use. With high-quality nutritious meals, clients can rebuild their health while undergoing additional therapies for their condition.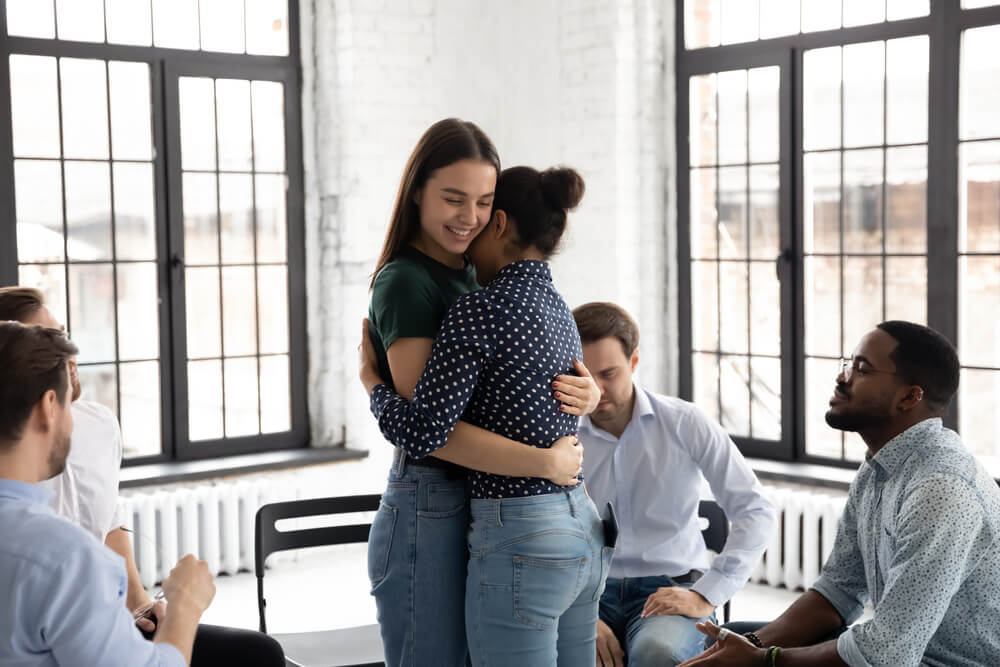 Of course, people get hungry between meals. That's why Sylvan Detox features a 24-hour snack bar so that clients never have to worry about hunger pains. Clients enjoy snacks between therapy sessions or in the evening when they relax to watch television, read, or simply to reflect back on their day of treatments.
While clients can expect to spend the majority of their time at rehab in therapy sessions, they can also look forward to downtime. Free time is important because clients need to destress. In fact, activities like playing basketball or pool are healthy ways to spend time. Everyone needs to unwind. It's important for people recovering from drug or alcohol addiction to find enjoyable but also healthful ways to spend their time. That's why Sylvan encourages clients to enjoy its recreational features. They're fun but they have a therapeutic aspect as well.
As a luxury detox and rehab center, Sylvan Detox also features holistic activities that support the recovery process. Yoga and meditation, for example, can enhance recovery. During therapies, clients work with therapists to develop strategies for managing their stress and negative emotions. Yoga and meditation are important strategies that can help. In fact, yoga benefits both physical and mental health. By engaging in healthful activities like these during and after rehab, clients can more easily fend off the triggers for relapse.
Of course, many clients simply want to relax after a day of therapy. Clients at Sylvan enjoy watching television either in their room or together with other clients. Watching televisions helps clients feel connected to what's happening in the world and less isolated. Socializing with other clients can also be helpful for easing loneliness. Many people forge new friendships in rehab. Each person there is forging a recovery path. Clients support one another as they strive to achieve their recovery milestones. Sometimes laughing together while watching tv is the normalcy they need to feel like their old selves again.
Sylvan Detox has a wide range of amenities, but its treatment programs are what continue to attract clients through its doors. Sylvan features medical detox and inpatient rehab complemented by many different treatment approaches. Sylvan Detox offers evidence-based treatments that have the support of the medical community but it also offers some alternative and holistic therapies that are known to support recovery too.
Sylvan's well-rounded therapeutic offerings address each aspect of addiction and addiction recovery. Clients who are suffering with a dual diagnosis can also get treatment support at Sylvan Detox. Because substance use disorders impact both physical and psychological health, it's crucial that treatments are available to address each clients' physical and psychological needs.
Sylvan Detox attracts clients from in and around Los Angeles. The center treats substance use disorders that include alcohol addiction, prescription drug addiction, and illicit drug addiction. For information about Sylvan Detox's high-quality treatment programs, luxury amenities, or specific addiction treatments, contact the rehab center today.